Taiwan Taoyuan International Airport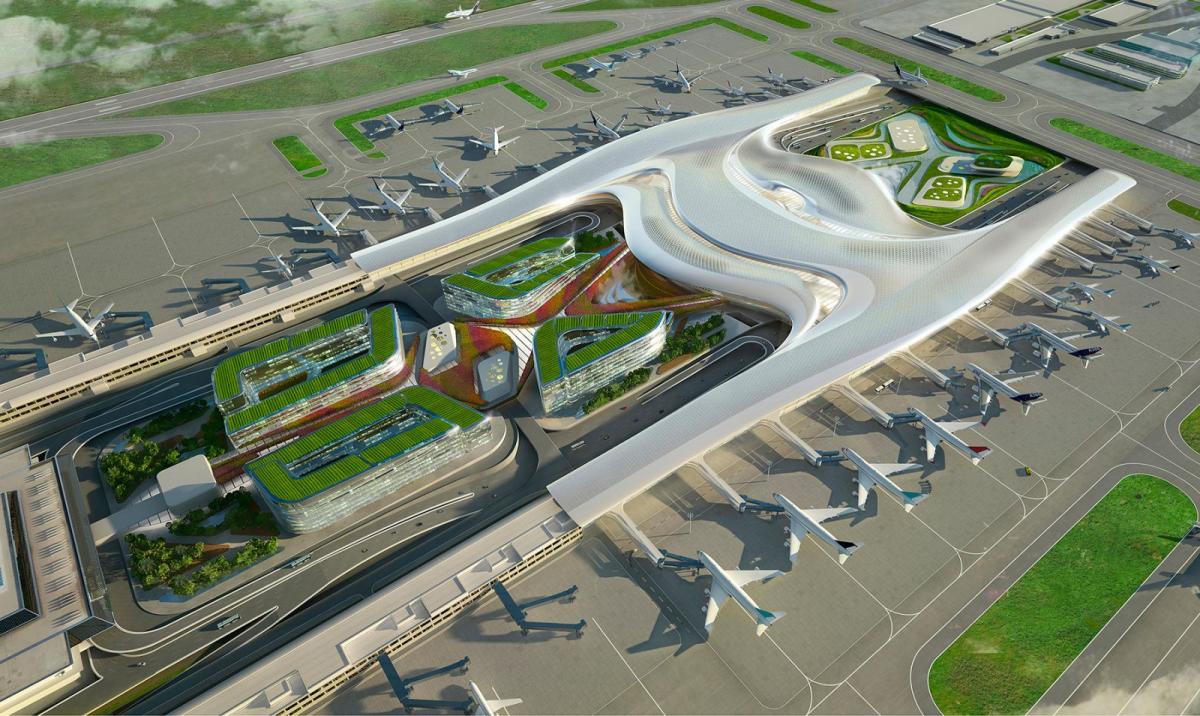 LOOSvanVLIET landscape architects took part in the UNStudio competition team for a new International Airport Terminal in Taipei.
The design team strove to combine optimized rational functionality, safety, climate control and natural wayfinding in an interior ecology. The geographical landscape context was one of the elementary elements for creating the distinctive atmosphere.
Taiwan has a variety of landscapes and its geomorphology is special. The island has nine volcanoes, mountains, waterfalls, forest, grassland, hot springs and tea plantations. These landscapes were used as a design inspiration for the landscape of the International airport terminal 3. The landscapes give identity to Taiwan and are shown in a transformed and abstract way in the design for the airport landscape. In particular changes of altitude inspired the design: the mountainous landscape panorama of Taiwan with its vegetation zones, peaks and valleys. The entry area in front of the terminal shows the geology like a volcano and waterfall landscape. In the terminal, peaks and valleys are represented by hanging and standing green. Sculptural hanging gardens guide the visitors as a means of natural wayfinding. The amount of green is influenced by the use of visitors and the type of green corresponds with the behavior of the travelers: more green in relaxation areas less green in areas intended for movement. The design concept of 'place making' is achieved through the creation of a sequence of spaces that privilege comfort, ease of use and orientation. The different spaces, microclimates, are defined by physical conditions related to daylight, humidity, temperature and air flow corresponding to the predominant use of such zones, whereas the plants, media, art and Taiwanese culture constitute the integral components of these different zones. In zones programmed for relaxation different microclimates are proposed to create a true green oasis. In areas where overview and visibility are important - such as the baggage hall - only green walls or low planters are used. The planting patterns of the green walls are inspired by Taiwanese aboriginal art. All plants selected in the terminal purify air and rainwater is re-used for indoor planting. From the terminal to the new multifunctional buildings a cultural axis is proposed with colorful planting and a hot spring garden with mist fountain. Outside the multifunctional buildings a forest of palm-trees and birch-trees is proposed, all tree species which are not attractive to birds. On the roofs of the multifunctional buildings one can find tea plantations in special patterns. Each courtyard has its own identity, created by different types of Taiwanese colorful meadows. The exclusive quality of the design comes from the complete merging into the architecture of functionality, security, climate, wayfinding and the perception of the natural context. It offers a unique Taiwanese place of transition in the international network of aviation.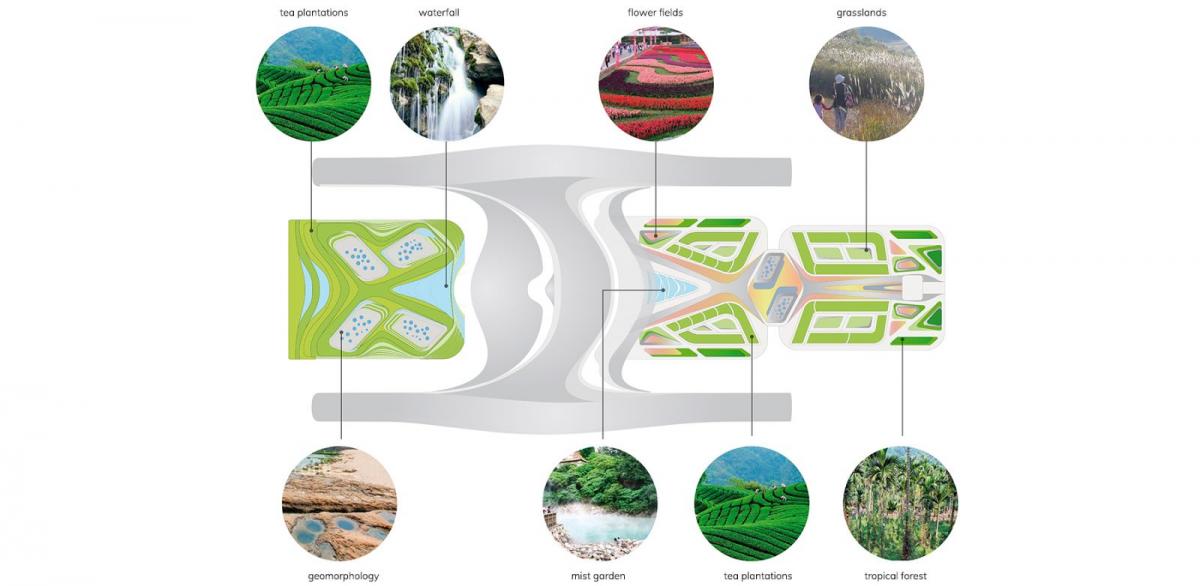 Principle section of gardens (micro-climates) on different altitude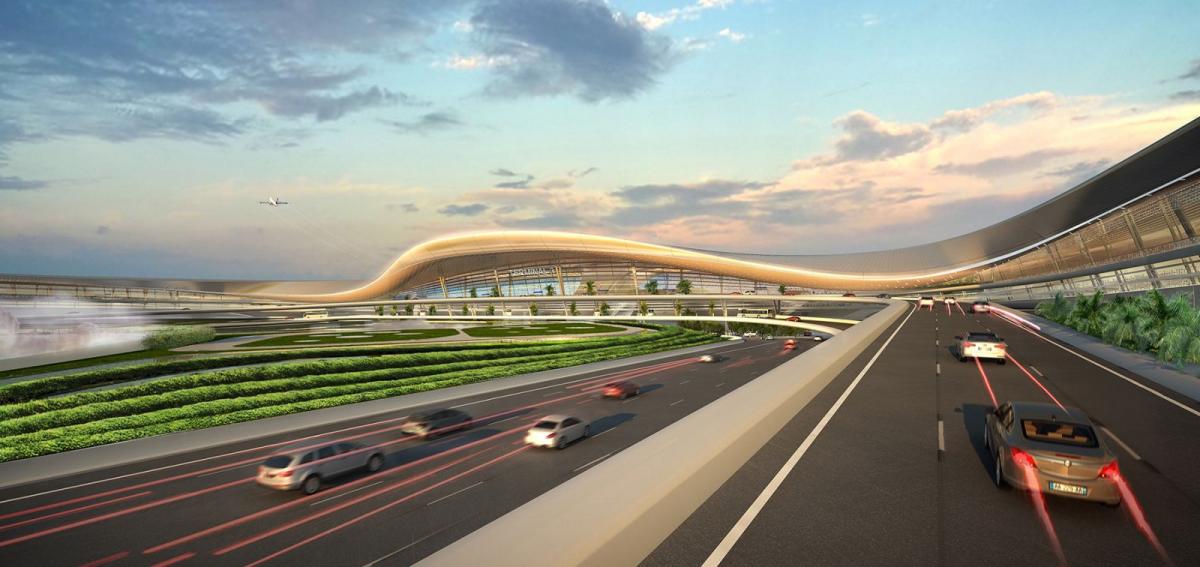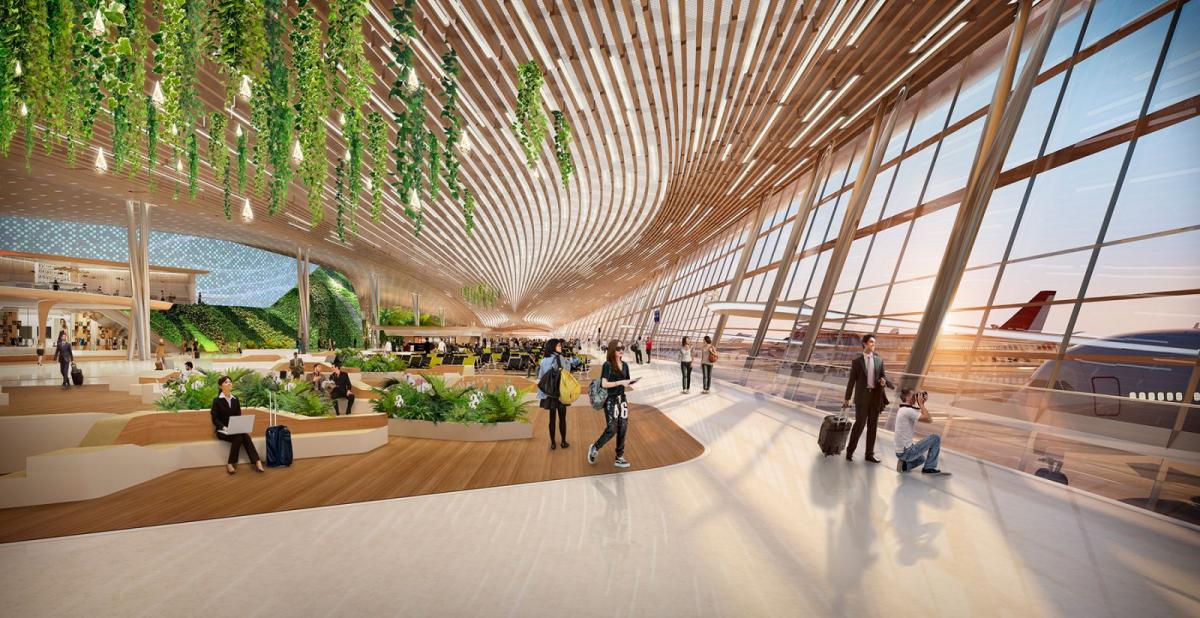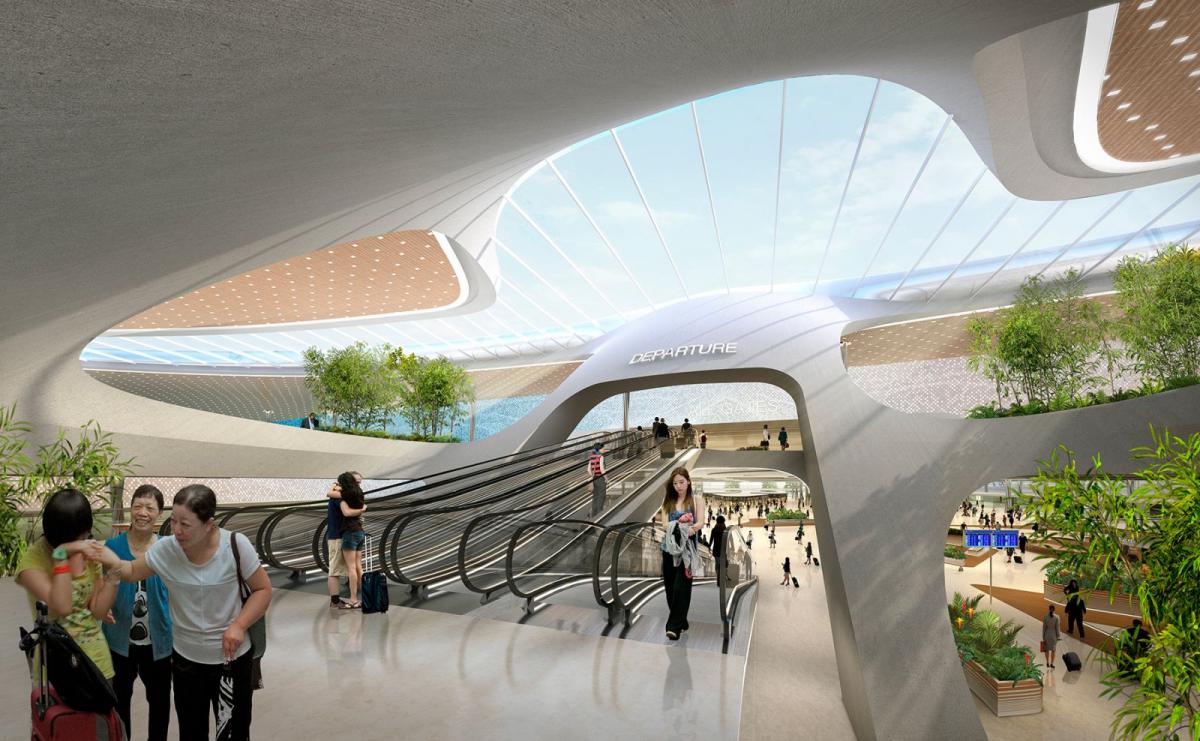 Relax, waiting

Movement, in hurry, walking


UNStudio, Architect
April Yang Design Studio | Airport Planning Architect
BIO Architecture Formosana | Local Executive Architect
Taiwan Engineering Consultants Group | Local Executive Engineer
Advisors:
LOOSvanVLIET | Landscape
Knippers Helbig | Structure and Façade Consultant
Transsolar | Sustainability
Mijksenaar | Way Finding
EC HARRIS | Project Management
ACTM | Commercial Planning
Portland | Commercial Planning
AG Licht | Lighting
MVA Asia | Traffic Consultant
ADPI | Airport Special Systems Consultant
Deerns | MEP HVAC Consultant
ARCADIS Hyder | MEP HVAC Consultant
ARCADIS Langdon Seah | Cost Consultant