Wet natural garden around Dialogue Centre, Wageningen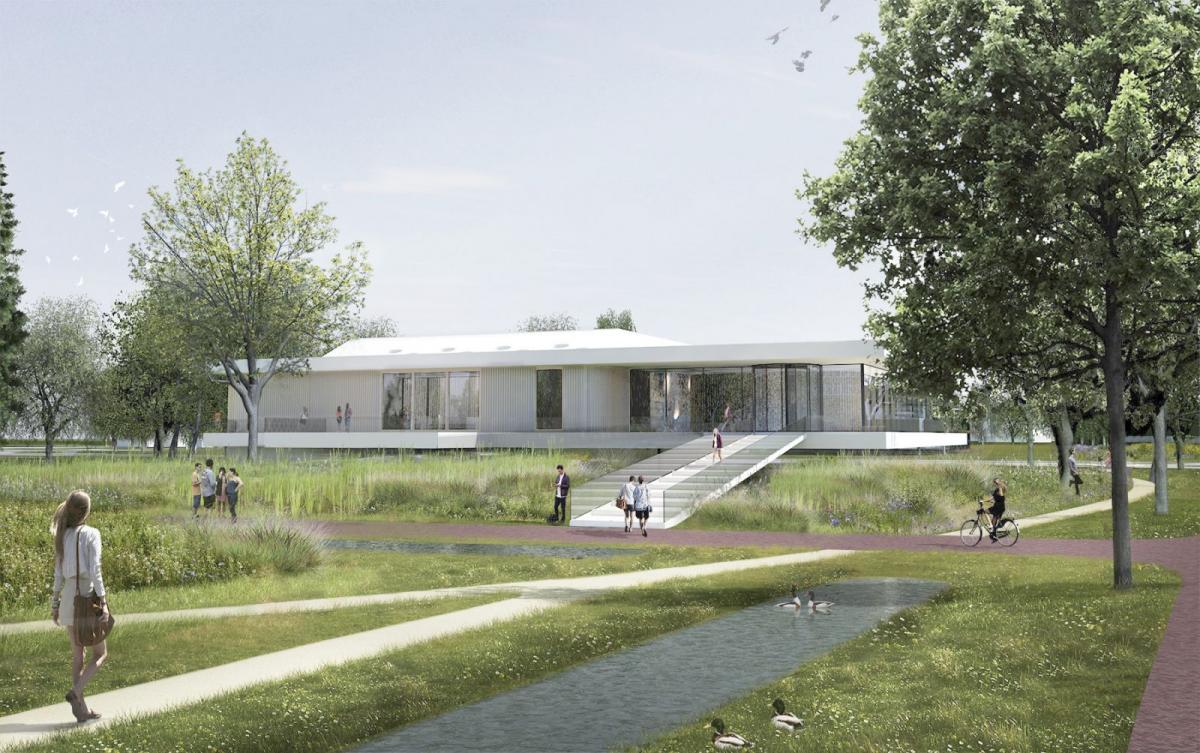 The Dialogue Centre, designed by Broekbakema, will be a new eye-catcher at the entrance of the WUR Campus (Wageningen University & Research). This modern conference centre will facilitate communication between students, researchers and society. As one of the monoliths located inside the university park, the building is immersed in the landscape. A wet natural garden present at the north side of the Dialogue Centre will be extended further towards the project area. This garden reflects the importance of sustainability in subjects taught at the WUR.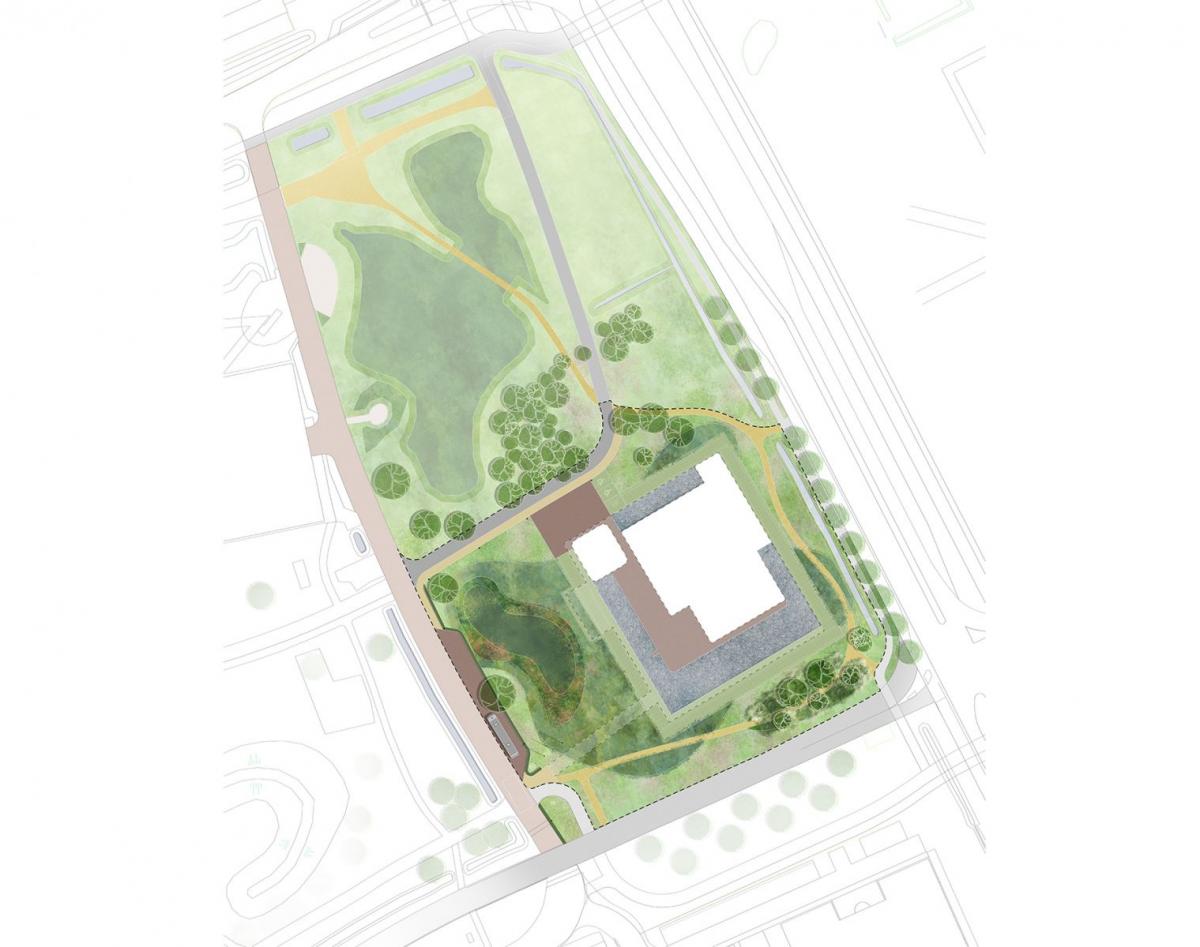 The 'Pavilion in the Green' seems to float above the landscape. Impressive stairs will rise above the wet natural garden and lead visitors towards the main entrance.The existing lower ground will be enlarged and deepened. Here a wet habitat will be created which is rich in native species. Around the pond reed will be planted to enhance the wet and natural character of the garden. Its presence makes the garden change its appearance seasonally. The higher parts of the site will be seeded with an insect friendly mixture of grasses and perennials. Selected shrubs and trees are suitable for the wet soil.

1. Meadow and busshes 2. Wet nature garden and reeds

1. Entrance area 2. Water mirror with pebbles

Visitors can enter the Dialogue Centre from the north and leave their bikes at the parking under the building. A shallow water pond filled with pebbles will reflect the light, making the bike parking look hospitable.The entrance square paved with bricks will facilitate the logistics of the Dialogue Centre. The colour of the bricks matches the natural stone of the facade. A winding gravel path will connect the bus stop at the Mansholtlaan with the Dialogue Centre and the rest of the campus.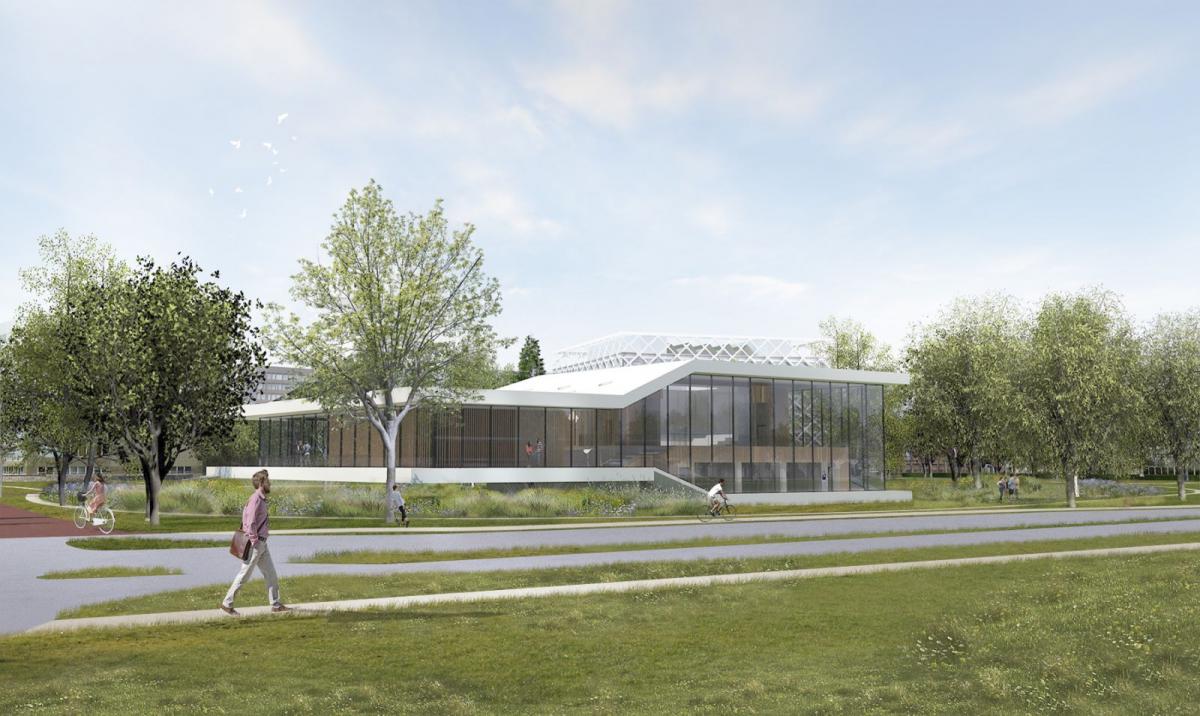 location: Wageningen
year design: 2019-2020
client: Wageningen University & Research
in collaboration with: Broekbakema