Succulent flux, Bilbao

The Succulent Flux is a garden of 20 by 4 meters. The design is referring to the name of the city: Bilbao.
The engineer Evaristo de Churruca said that it is a Basque custom to name a place after its location. For Bilbao that would be the result of the union of the Basque words for river and cove: Bil-Ibaia-Bao. Also, historian José Tussel Gómez argues that it is just a natural evolution of the Spanish words bello vado, beautiful river crossing.
The green garden is to be seen as a river, a flux of plants. It is a transforming green sculpture changing in shape from a river at one side to the two banks of the estuary on the other side. The base of the object is made out of steel, which is coloured in grey-green. The steel object has a minimum height of 30cm and a maximum height of 110 cm. On top of the steel structure a carpet of succulents is planted in a pattern of curved lines which express the flow of water. The succulents ask almost no maintenance and always create an attractive view with a variety of green, red-pink and gray color.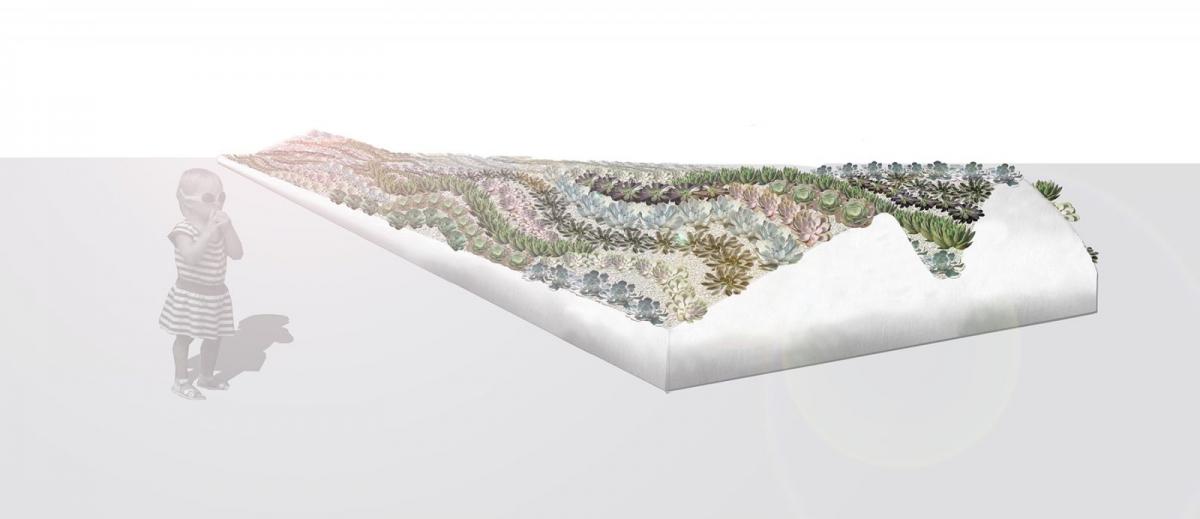 location: Bilbao, Spain
year of design: 2010